A recent dinner had to be converted from a
soup recipe
to a stew recipe. Regular readers may already know why. Although Tom has been pushing his boundaries recently, with forays into the worlds of
mushrooms
(
twice
) and
anchovies
, I thought messing with his aversion to soup might be a step too far. Thankfully it was easy enough - just skip the blending part, really - and dinner was wonderful. The mint adds depth and freshness to what is otherwise a stodgy mess of vegetables. I really enjoyed the comforting mix of surprisingly complex flavours. And yes, I blended the leftovers for soup the next day. With a cup of wine. It was even more wonderful.
As I type this, I am nibbling away on something baked and brilliant, which I promise to share with you tomorrow. What a cliffhanger!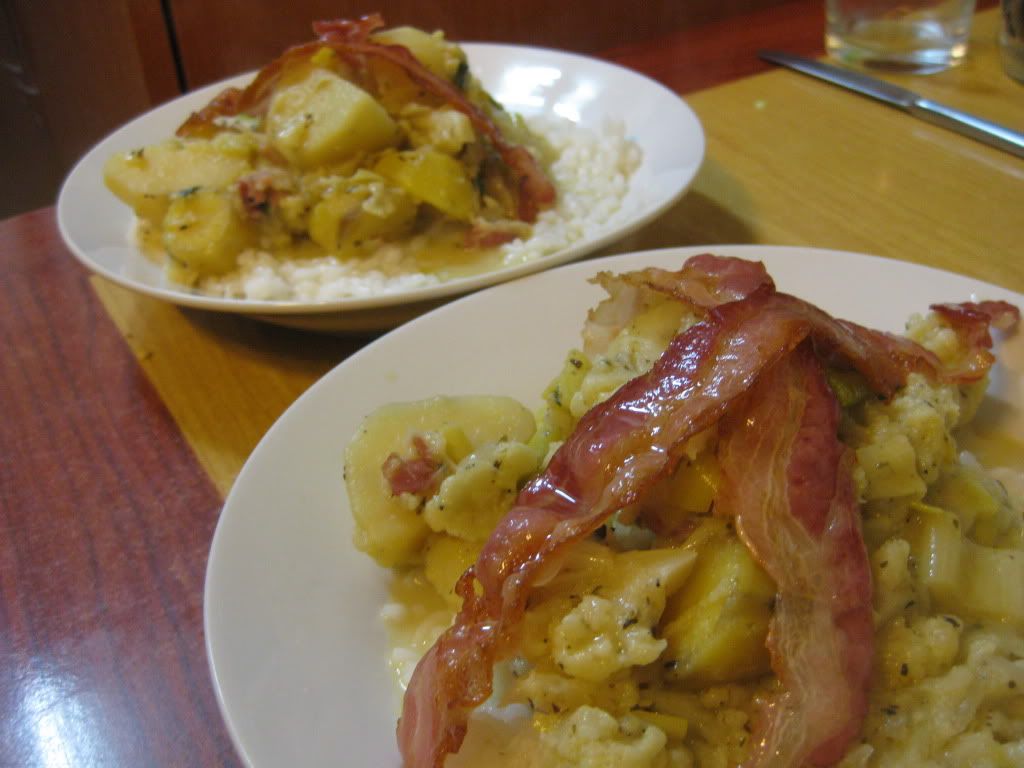 Bacon Vegetable Stew
Serves 4
1 tablespoon butter
10 rashers bacon, separated
1 onion
500g leeks
1 clove garlic
4 potatoes
2 sweet potatoes
1 litre stock
50ml rum
2 fresh mint leaves
100ml cream
Seasoning (salt, pepper, mixed herbs)
Chop four rashers of bacon finely. Peel and chop the onion, garlic, leeks and all of the potatoes.
Melt the tablespoon of butter in a large pan over low heat and dump all of the chopped vegetables, plus the bacon, into the pan. Fry for five to ten minutes until everything has some colour to it, stirring occasionally to prevent sticking. Season with salt, pepper and herbs.
Pour in enough hot stock to cover everything, along with half the rum. Stir, and simmer on a low heat for thirty minutes, or a medium heat for twenty minutes.
Break the cauliflower into florets and add it to the stew. Tear up the mint leaves to release their oil and add them to the pot also.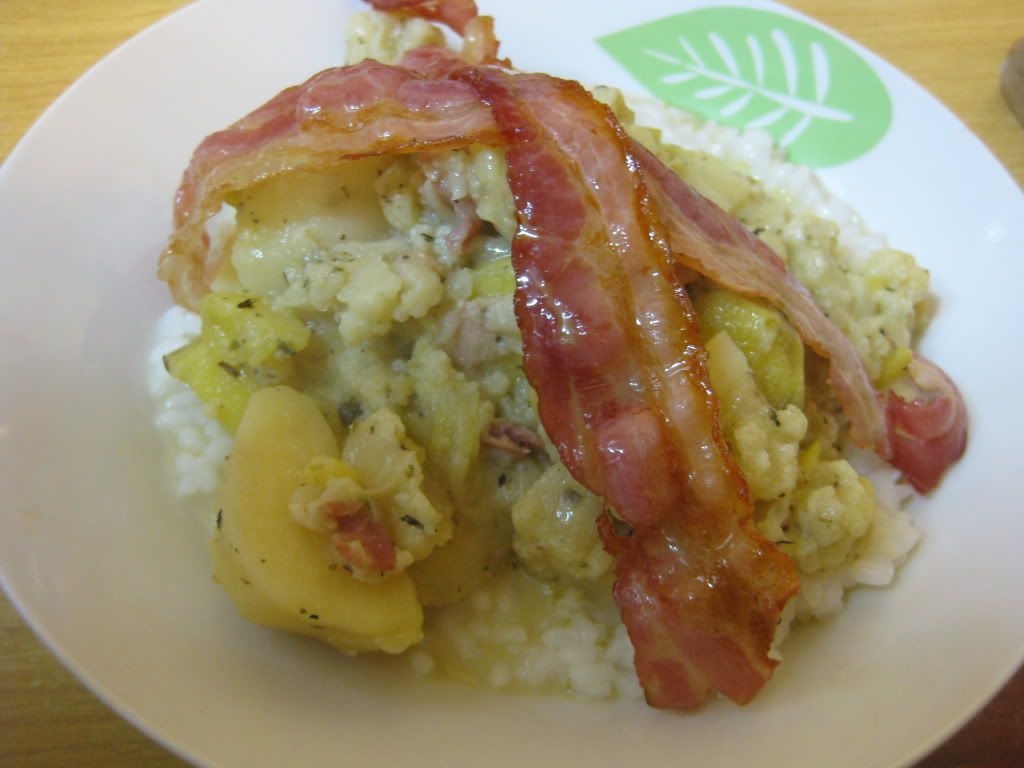 You're almost there!
Simmer for five minutes, turning the heat up if the stew liquid needs reducing, then add the cream and rum. Simmer for another five minutes.
In the meantime, grill the other six bacon rashers until crispy.
Serve each dish with something to mop up with (rice, bread, couscous), and one and a half rashers of crispy bacon. My pictures with the entire rashers balanced on top look good, but it's probably better to crumble them into the stew for ease of eating.