Yesterday
I promised you something brilliant. Here it is.
I've been on a baking binge. (Also, somewhat of an alcohol binge the past couple of days. Anyone got any paracetemol?) We've had
brownies
and
lemon cake
and even a
savoury pie
. I've simultaneously been on a white chocolate binge. In the past month, there's been my
birthday cake
and
the
white chocolate jaffa cupcakes
, a small number of which are still sitting in the fridge waiting to be eaten. It shouldn't be too much longer.
Anyway, it was time to combine these two binges and create
white chocolate bread
. Yes, really. There's half a loaf sitting on the counter and another loaf, unbaked, slowly rising in the fridge. I even had a warm slice with butter yesterday. The bread is chewy with a hard crust and - well, it's real bread! Not 'it's bread, but not as we know it' which I made a few months ago and was heavy enough to kill someone. I made it by hand, and kneaded for a
very
long time (about 45 minutes per loaf) to try and get as much air into it as possible. I put
Bridget Jones' Diary
on and kneaded for the whole hour-and-a-half. And I don't regret it.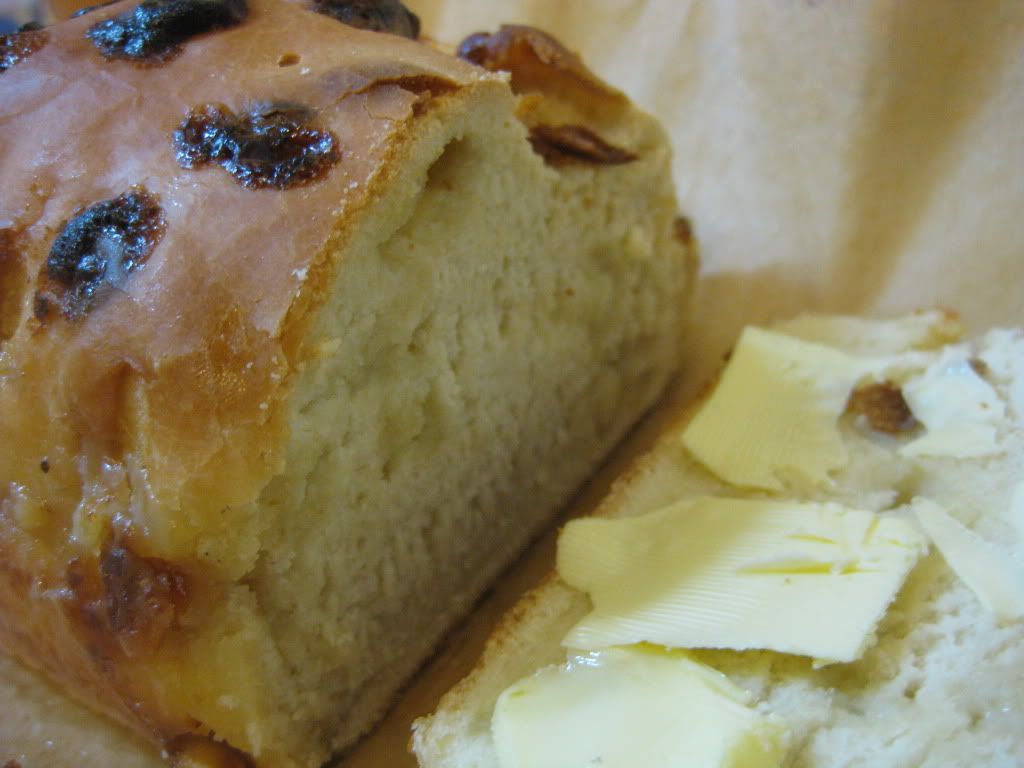 White Chocolate Bread
Makes 2 small loaves
4 cups flour
4g yeast
1.5 teaspoons gluten
2 cups water
1 teaspoon salt
1 cup white chocolate chips
Parchment paper
Mix the flour, yeast and gluten in a medium-sized bowl.
Add the two cups of water and stir with a spoon until most of the flour is incorporated into a dough. Add the teaspoon of salt and continue stirring, using your hands to make sure nothing gets left behind.
Dump the chocolate chips into the batter and try to get them into the dough.
Clean and flour a working surface and your hands, and tip the dough on to it. The chocolate chips will keep falling out, but just push them back in. Knead for about ten minutes, and then leave the dough to rest in a warm place for twenty minutes.
Returning to the dough, divide it into two pieces and knead each piece thoroughly until elastic. (You probably don't have to do the entire forty-five minutes.) Leave to rise for forty-five minutes. This is when you can wrap one loaf in clingfilm and transfer it to the fridge or freezer, to bake according to necessity.

Line a bread dish with parchment paper and drop the dough into it, in a rough loaf-shape.
Bake in the oven at 230 degrees (450 Fahrenheit) for twenty-five minutes. The chocolate chips at the edge of the dough will caramelize; the ones inside will go gooey. If you use your oven later the same day, the whole house will smell of hot white chocolate again.
Leave to cool for about fifteen minutes before cutting into it.