This is a sort of inverted
shepherd's pie
, but with spicy chicken in tomato sauce instead of rich beef in gravy. I liked it. Tom didn't. I won't presume to make any assumptions about whether you'd like it or not, because it's completely your choice as to whether you even want to read this recipe, let alone recreate it. Good luck to you either way. I hope your dinner is fabulous, whether it's a potato-crusted chicken pie or not.
This recipe sees the first outing of my new set of digital scales. I had precisely 678g of peeled potato, so have rounded up a little to account for the skin. How exciting!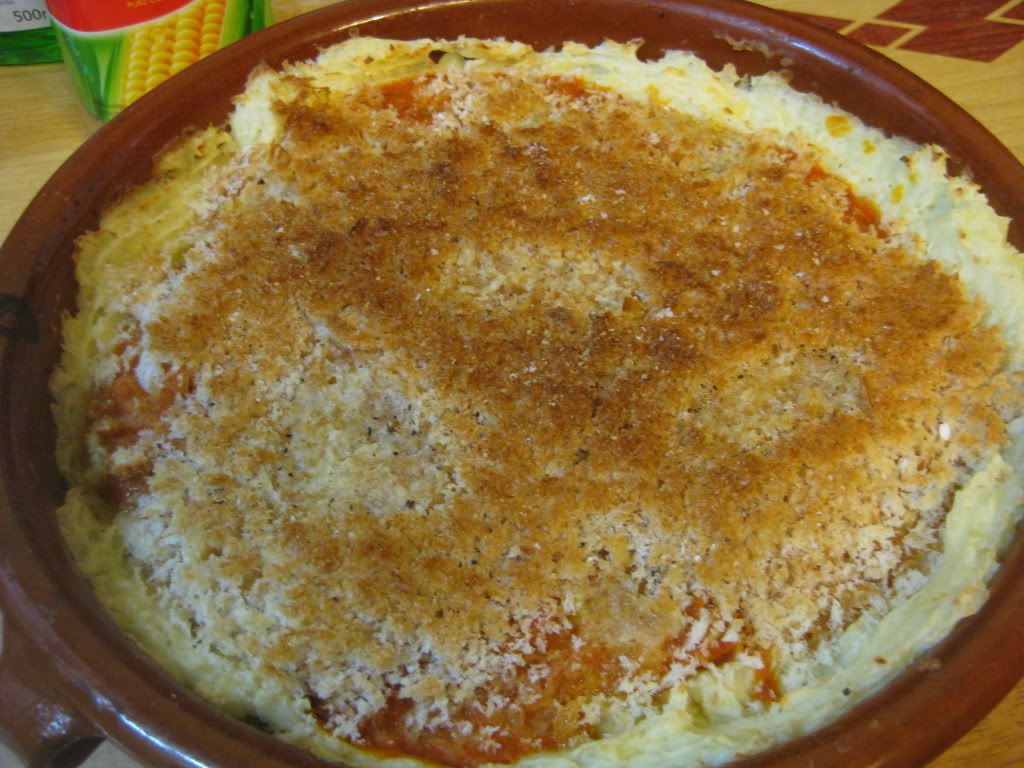 Potato-Crusted Chicken Pie
Serves 4
700g potatoes
1 tablespoon butter
1/2 cup milk
Seasoning
1/2 onion
2 garlic cloves
2 green chillies
1 tablespoon oil
2 chicken breasts
2 tablespoons seasoned flour
200ml tomato sauce
1 teaspoon cinnamon
1 teaspoon mixed herbs
1/2 teaspoon chilli powder
1/2 cup cream
Seasoning
2 slices bread
2 tablespoons butter
Seasoning
Peel the potatoes and boil in salted water until soft. Mash with butter, milk and seasoning, and press into the bottom and sides of a large, deep dish. Bake for twenty minutes at 180 degrees (360 Fahrenheit).
In the meantime, chop the onion, garlic and chilli and fry in oil.
Dredge the chicken in seasoned flour and add to the onion pan. Fry over a medium flame, turning once, until both sides of the chicken are seared. Add the tomato sauce, spice and herbs, and simmer for twenty minutes until the chicken is cooked through. Season.
Remove the chicken from the sauce and
shred, using two forks
. Return it to the sauce along with the half-cup of cream and simmer to reduce. Season.
When the potato crust has been baked, take the dish out of the oven and fill the shell with the chicken and as much sauce as will fit.
Make breadcrumbs out of the slices of bread, season, and then sprinkle on top of the pie filling. Cut the tablespoons of butter into pats and place them on top. Bake at 180 degrees (360 Fahrenheit) for ten minutes - everything is hot, the breadcrumbs just need to crisp up a little.
Serve, messily.