I was going to post a picture of my inspiration for this dish - which would have been a copy of Niki Segnit's
The Flavour Thesaurus
propped next to a flourishing sage plant - but I am completing the miraculous feat of posting a recipe
the very night
I cooked it, and it is too dark to take that particular photo right now. Saltimbocca is an Italian cooking style which uses pancetta and sage and sometimes lemon on a fillet of something (veal, plaice... or boring chicken). Most recipes require cocktail sticks to hold everything together, but I just swapped the placement of some ingredients round because I didn't like the idea of cooking or eating around a piece of wood. I also added a lot more sage than is typically called for, and am very happy I did so. I'm not sure how you would really taste one sage leaf per person.
But never mind, because here's a very simple and quick recipe which looks fancy just because of all the little sage leaves in it. Made with fresh herbs from my own balcony 'garden'!
Chicken Saltimbocca
Serves 2
2 chicken breasts
10 sage leaves
4 slices bacon
1 tablespoon flour
1 tablespoon butter
1/2 onion
2 garlic cloves
1 cup white wine
1/2 cup cream
Seasoning
Butterfly the chicken breasts so they open up, and roll them between two sheets of clingfilm until they are less than a centimetre thick. Be classy like me and use a wine bottle instead of a rolling pin. Put four sage leaves on each piece of chicken, reserving two. Season.
Cover each of these with two strips of bacon and tuck the ends under. Season again, and dust each with a little bit of flour, saving at least half the tablespoon.
Heat the butter in a wide-bottomed pan with the two remaining sage leaves. Once hot, gently move the chicken into the pan, bacon-side down. Cook over a medium heat for five minutes, moving them every so often to prevent sticking.
Season the top uncooked side of the meat and sprinkle with the remaining flour before flipping to cook on this side for a further five minutes. In the meantime, dice the half-onion and garlic.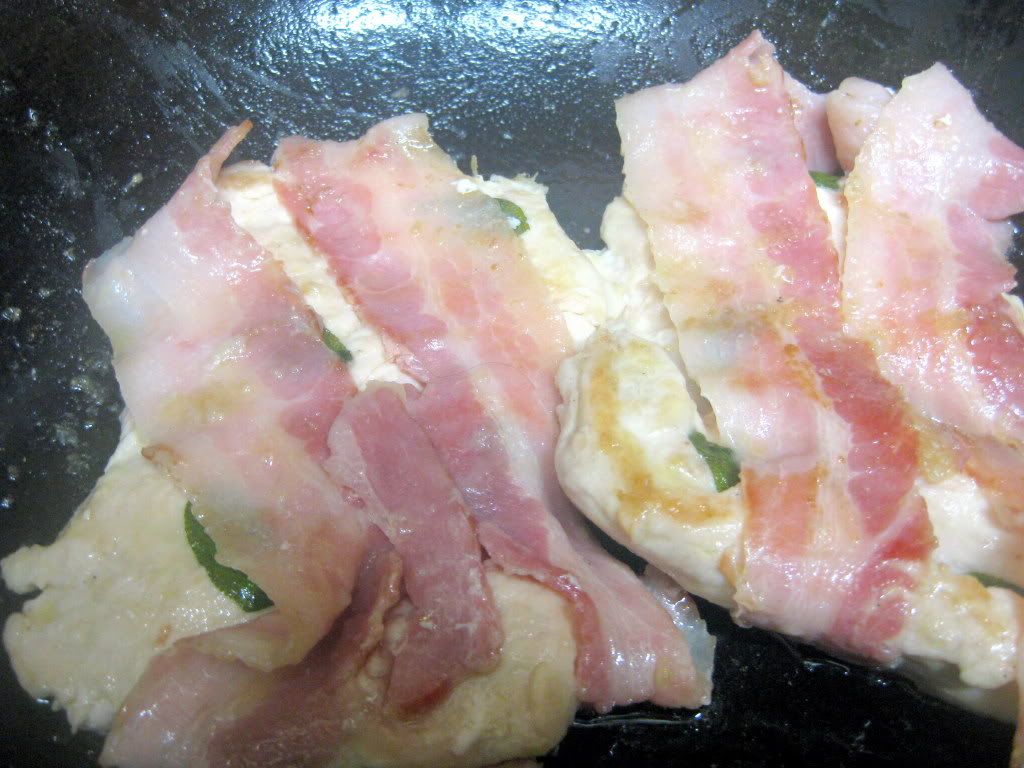 Remove the cooked chicken from the pan and keep warm (easier said than done).
Tip the chopped onion and garlic into the sage-y, bacon-y butter and fry quickly over a high heat until slightly softened. Add the white wine to deglaze the pan. Once it begins to bubble, add the cream and turn the heat down to medium. Season and then reduce to your desired thickness, stirring constantly.
Serve the chicken with rice and pour the sauce over.