This recipe started out as a way to make almost-vegetarian meatballs. I even served them with spaghetti (unfortunately without tomato sauce, because seconds before I went to make the sauce, I found that we didn't even have any tomato. That's called 'knowing what's in your kitchen like a proper cook'). But I don't think that's what these sweet potato bacon bites were intended for. On hungrily scoffing the cold leftovers the next morning, I think they would be great as snacks or canapes. They take quite a lot of work but the work is neither particularly fiddly nor hard.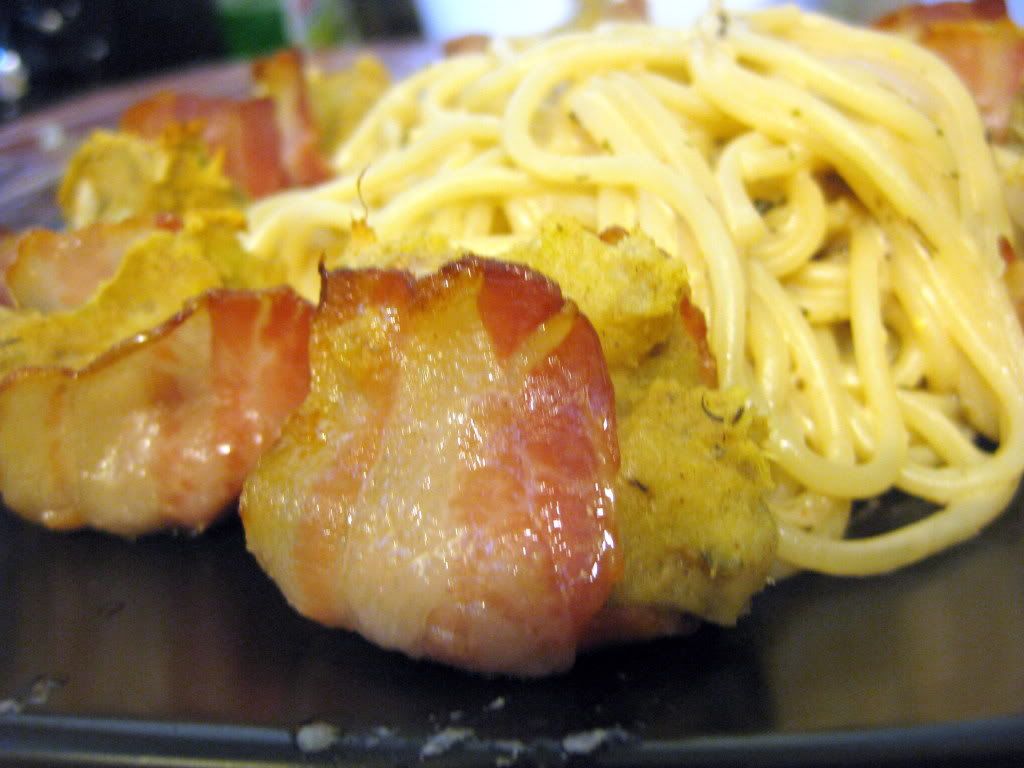 Sweet Potato Bacon Bites
Makes 40 bites
5-6 sweet potatoes
1 tablespoon butter
1 tablespoon milk
1 onion
2 cloves garlic
1/2 cup flour
Herbs, chilli flakes and cinnamon to taste
1 egg
20 rashers bacon
1 tablespoon oil
Seasoning
Peel and dice the sweet potatoes and boil until soft. In the meantime, chop onion and garlic.
Mash the potato in a large bowl with butter and milk. Add the onion, garlic, flour, herbs, chilli and cinnamon. Stir until smooth, adding more flour if necessary. Crack an egg into the bowl and continue to stir until everything comes together.
Cut the rashers of bacon in half.
Pick up a spoonful of the sweet potato mixture and put it in the middle of half a bacon rasher. Pinch the bacon rasher up around it and place bottom-side down in a large, ovenable tray. Repeat until you run out of bacon, sweet potato, or space. At this point the bites can be frozen until you need them.
Drizzle the tablespoon of oil over your bites, and put them in the oven at 180 degrees (360 Fahrenheit) for twenty minutes (thirty to forty minutes if they are being cooked from frozen). They are ready once the bacon is beginning to look crispy. Serve hot or cold.