Blog note: I have just realized that although I've been editing all my photographs to be clearer and brighter, I have consistently been uploading the dark, unedited ones. Argh! I will be (slowly) going back through and redoing most of the photos because of this. Thanks for bearing with me.
It was a long weekend. When we got back, we were desperate for something healthy and fresh, so I suggested pizzas piled high with fresh vegetables. Luckily, Tom volunteered to make the dough (I do hate the hassle and mess of making dough), and
the recipe he used
suggested calzones, so that's where we went. We used asparagus, onion, spring onion, tomato, pepper,
sukgat
(edible chrysanthemum) and some chopped herbs from our balcony garden. We did not put cheese inside the calzone, but on top. You can substitute whatever you have to hand, because this is more a set of guidelines than an actual recipe. It was really, really good, and did its job as health-overload perfectly.
Dough notes: as mentioned above, we used
this yeast-free recipe
but Tom reports that he had to add way more flour and only used half the amount of baking powder. I have used
this SmittenKitchen recipe
to great effect before, as well as the
SK pizza dough with wine and honey
. You could also go pre-made, too.
Detox Calzones
Makes 2 calzones
Dough (see note above)
1/2 cup cream cheese (with garlic and herbs if possible)
1/2 to 1 cup grated cheese
Seasoning
Vegetable filling:
3 stalks asparagus
1 tablespoon white wine vinegar
1/2 onion
5 spring onions
1 tomato
1/2 red pepper
Handful edible chrysanthemum
1 tablespoon fresh mint
1 tablespoon fresh sage
Prepare the dough and roll it flat into a rough circle or square shape. Ours were about ten inches across, maybe a little less. (I told you these were just guidelines.)
Brush cold water around the edge of each dough shape. Divide the cream cheese and spread over each open calzone.
Prepare your vegetables. I did the following:
Sliced the asparagus very finely and tossed with black pepper and white wine vinegar.
Sliced the half-onion into crescents.
Cleaned the spring onions and chopped into rings.
Diced the tomato.
Cut the red pepper into strips.
Roughly chopped the edible chrysanthemum.
Finely chopped the herbs.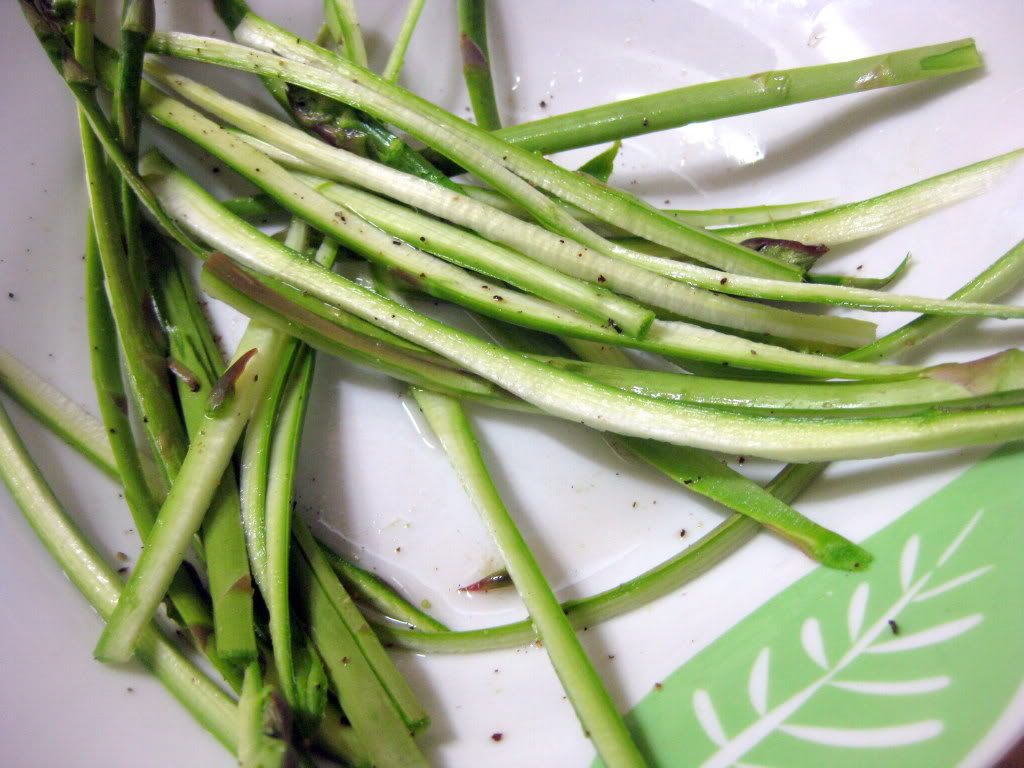 Pile half of the vegetable mix on to one side of each calzone, being careful not to overfill. Season. Fold over and seal.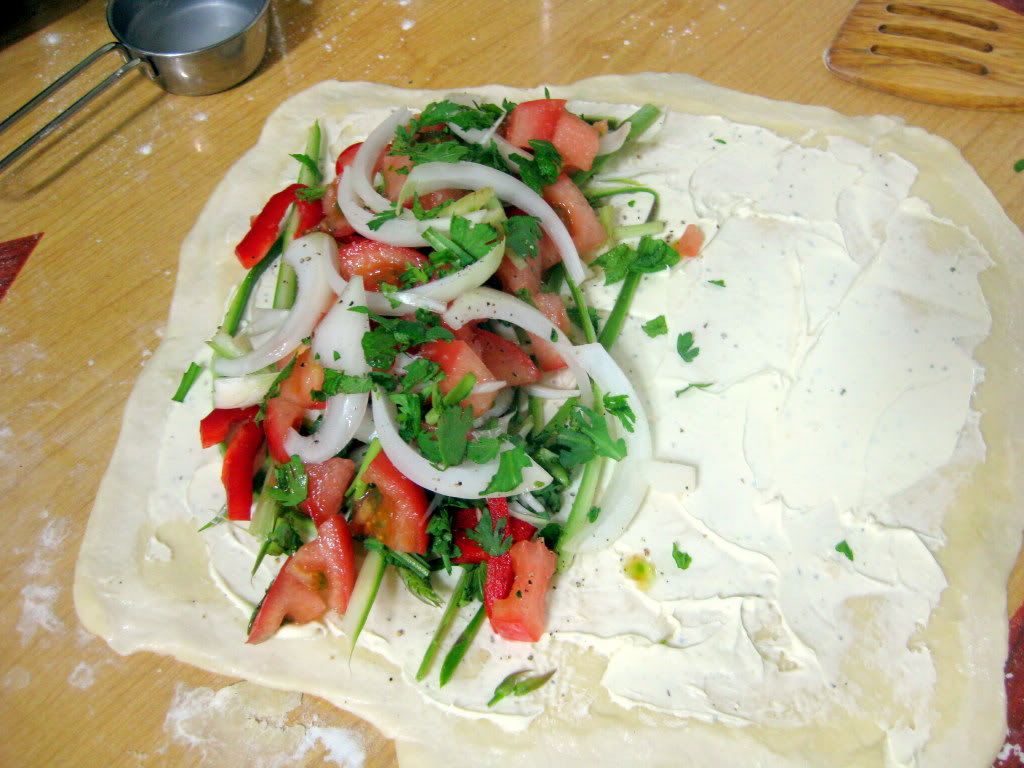 Bake the calzones at 250 degrees (480 Fahrenheit) for ten minutes. Sprinkle grated cheese over the top of each calzone, turn the temperature down to 180 degrees (360 Fahrenheit) and continue to cook for fifteen minutes until the cheese is golden brown.
Serve.