I was going to make
bean burgers
again at the weekend, except I didn't because it's actually way too hard for me to soak those un-soaked chickpeas we've got. And it's not like I have any excuse - the same day I intended to soak the chickpeas, we took the time to create
paper ties
and
scrap-fabric chokers attached with a 21st birthday badg
e in order to attend Tom's brother's wedding (congratulations to whom, by the way) via Skype. So intead we made vegetable burgers. They were good. And huge. And served with
Jansson's Delight
.
In other news, would anyone like the recipe for a vegetarian chilli con carne with sweet potato? I based mine
off this recipe
, but changed it a lot, as usual - my only worry is that I used a packet of barbeque seasoning and curry cubes, as the original spices are impossible to get here. I feel like it would be difficult for you to recreate elsewhere because I used prepackaged stuff.
Anyway: on with today's recipe...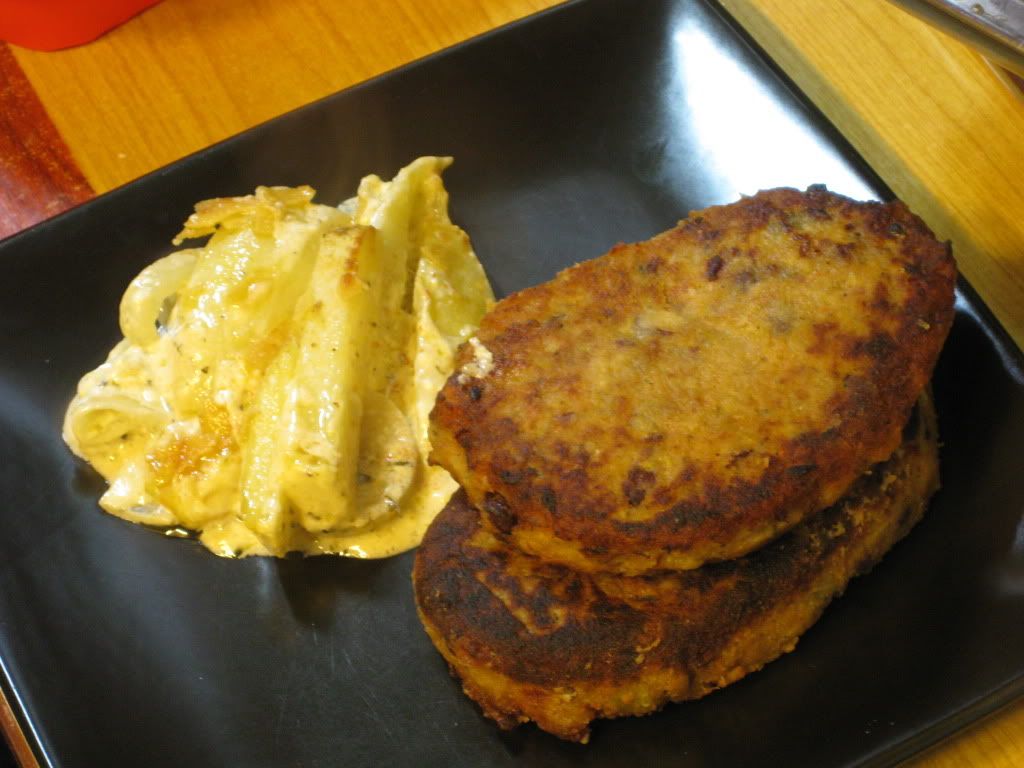 Veggie Burgers
Makes 6-8 burgers
2 sweet potatoes
1/2 head broccoli
2 cloves garlic
1 tin red kidney beans
1/2 cup milk
2 tablespoons tomato sauce or paste
1-2 teaspoons chilli powder
1 teaspoon mixed herbs
2 slices bread, made into breadcrumbs
1 egg
1 cup flour, plus more for shaping
1 tablespoon oil, plus more for frying
Seasoning
Peel the sweet potatoes, and chop them and the broccoli into small pieces. Boil in salted water for ten minutes or until soft.
Add the kidney beans into the boiling pan for two minutes, then drain. Transfer to a large bowl and season.
Mash the potato, broccoli and kidney beans together, adding milk to loosen the mixture a little. Gradually add tomato sauce, chilli, herbs, breadcrumbs, egg, flour and oil until the mixture is very thick.
As before
, you might need to fudge the quantities a little to get the right texture. It's surprisingly difficult to add too much flour. Season again.
Cover a tray, plate or chopping board in flour, and your hands in oil. Grab a handful of the burger batter and shape it into a burger. Place on the floured tray, and then turn it over so it is floured on both sides. Repeat until all the batter has been made into burgers, re-flouring the board and re-oiling your hands regularly.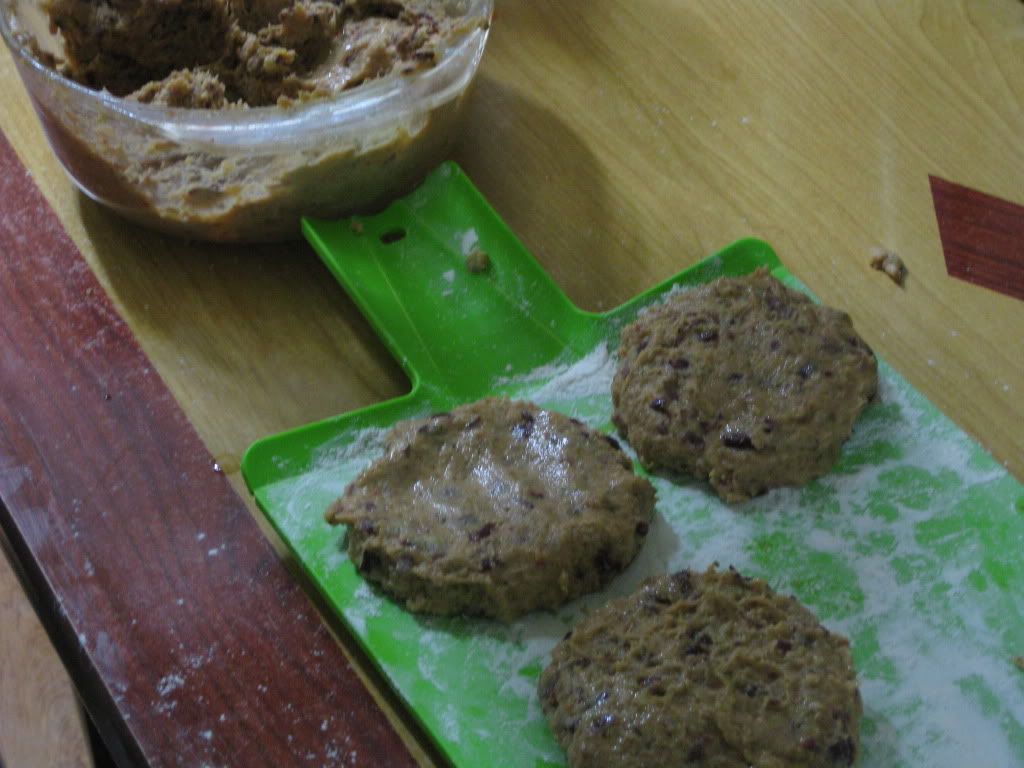 You should get about six to eight burgers out of this - maybe more depending on how small you make them. (Our last two burgers were GIANT ones. Tom put one on my plate and I could no longer see half of my plate, that kind of giant.)
Refrigerate for ten to fifteen minutes. I like this step because it usually coincides with the side dish having to cook, and (in my mind at least) firms the burgers up for frying later. I'm not sure if it's entirely necessary though. If you try this recipe without refrigerating, let me know how it goes!
Heat some oil in a frying pan and cook the burgers on each side for three to five minutes, depending on thickness. Once each side is crispy and the burger is heated through, they are ready.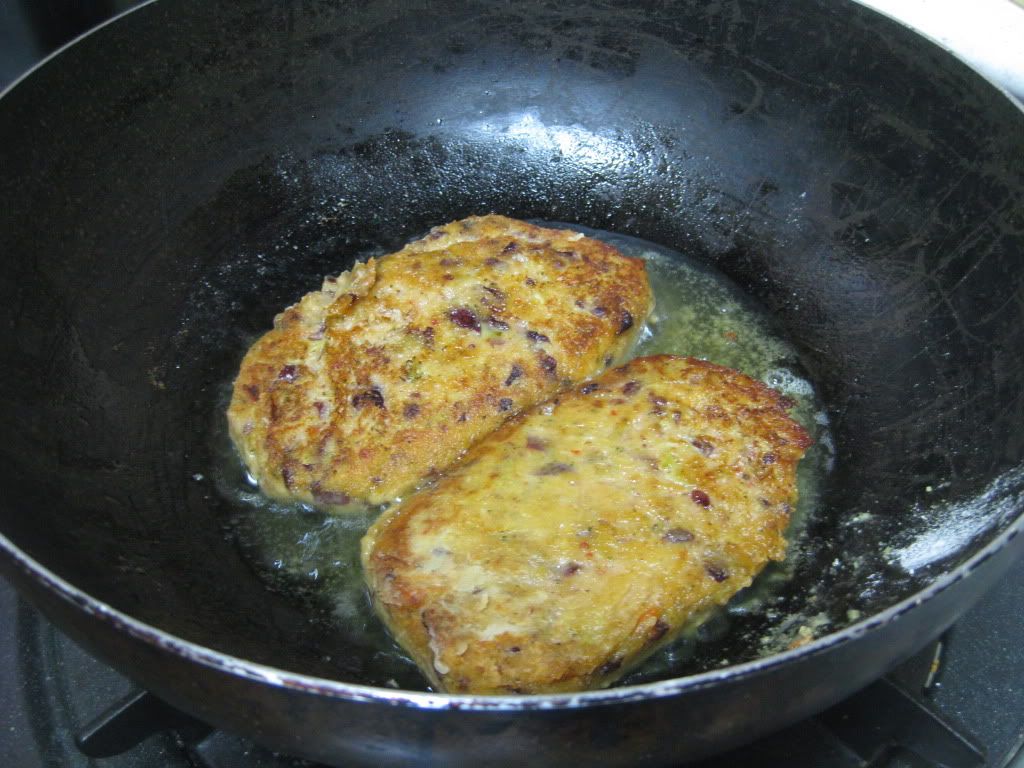 Serve.